The Comet spotlights
a swashbuckling comment at
PittGirl's place
:
59. Greg Says:
I'll be coming into town those 2 days, not to protest, but to WORK.

I pity the protester who pisses me off.

Nuff said.
Greg sounds like one tough customer, just the guy to loosen his tie, drape his Brooks Brothers jacket over Muffy's arm, collect his Young Republican thoughts and wade into a G20 scrum.
I just hope a reporter is on the scene to interview Greg's flash grenade-stunned, Rivithead-stomped, feces-flecked, teargassed, urine-soaked carcass as the police drag him to safety.
Contemplating Greg's big debate next week, I found some aptly named footwear for the fashionable anarch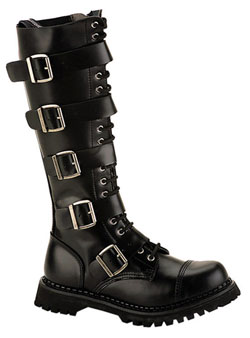 ist planning to visit Pittsburgh for the G20: The
Rivithead RIOT-20 5-strap, 20-eyelet, steel-toed black leather urban assault boot with augmented heel
(left).
UPDATE:
Anti-Flag's G20 concert is off.