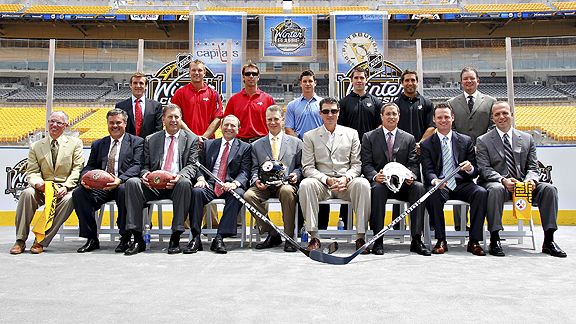 This is the "official photograph" from the National Hockey League's press conference concerning a New Year's Day game in which the Penguins and Washington Capitals are to play outdoors in Pittsburgh. The game will feature Sidney Crosby and Alexander Ovechkin, two of the league's most accomplished and popular players. One of the finest players in league history, Mario Lemieux, represented the Penguins; league president Gary Bettman also attended.
So who is placed at the center of this commemorative photograph? The landlord. Holding a football helmet (because he runs a gangsta football team). Two other guys are holding footballs. Two goobers are holding towels featuring the Steelers logo.
The Penguins are the only professional team in Pittsburgh with its reputation intact. Why do they occupy a back seat at an event like this?