The United States government has
disclosed
that the "
diplomat
" whose release from a Pakistani prison it has demanded is a CIA "security" employee.
And a former mercenary.
The United States government is probably right to worry that a former mercenary -- who shot two Pakistani civilians to death, after which a third Pa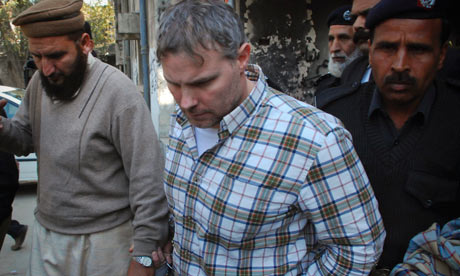 kistani civilian was run over and killed by Americans speeding to the death scene to recover the trigger-happy (at least 10 bullets) shooter -- might be in jeopardy while in Pakistani custody (right). Some locals find it difficult to accept that the lawless mercenaries shooting up their streets (and, often, their family members and friends) should be greeted as liberators.
The United States government is probably wrong, however, if it expects reasonable people to worry much about its former mercenary, or to credit claims of "diplomatic immunity." For a mercenary, the plus side includes adventure, great pay and the opportunity to shoot civilians without consequences. The negative side is winding up in one of the prisons in which your amoral colleagues once tortured the locals.
Infinonytune:
Rock The Casbah
, The Clash