An especially praiseworthy point about certain artists is that they (with those they entertain and inform) pay their own way in performing, operating on the admirable end of the curious American principle that the more well-heeled an audience, the more likely its amusement is to be
subsidized by the public
.
When
symphony
-loving
conservatives
criticize
John Fogerty's
left
-leaning
lyrics
, or opera-fan Republicans
complain
about Bruce Springste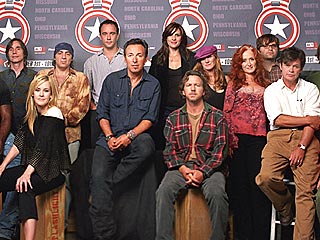 en's
political involvement
, or
ballet
patrons sneer at punk rockers for . . . well, for being punk rockers, these upper-crusters reveal a low-class lack of self-awareness concerning their
high-society socialism
. Unlike their critics' favored artists, Fogerty and Springsteen have earned every step up to their soapboxes -- and paid the taxes, too.
The lines blur at times -- it is always disheartening, for example, to watch a
street-level rebel
such as John Mellencamp
descend into a gilded-caged attraction
at Heinz Hall. In general, however, the rockers and punkers and rappers stand on their own two feet while the lecturers on free markets and self-sufficiency and the evils of socialism revel in collectivism when it funds their entertainments.
Perhaps it is unsurprising, then, that musicians such as bluesman Billy Price, rocker Joe Grushecky and punker Justin Sane -- accustomed to accountability for their own tab -- are willing a
nd able to
carry a little extra load for a colleague whose strength has been sapped
.
Local treasure
Anne Feeney
, who has long sung for workers and rights and justice -- her first public performance (left) opposed the Vietnam War, on the Cathedral of Learning lawn in 1969 -- is ill. Some outstanding local musicians (Liz Berlin of Rusted Root, Hermie Granati, Mike Stout and the Human Union, Newlanders, Tres Lads, Joe Munroe) will join Anne Feeney and Friends (and Billy, and Joe, and Justin) on the
Mr. Smalls Funhouse
stage on Sunday, December 12, to help Anne Feeney.
For less than the cost of a cummerbund suitable for a
RAD
-subsidized night at the Benedum, attending Take A Stand: Rock For Anne could benefit a good cause, your ears and your soul. If you can't attend,
buy a ticket anyway
and consider it a non-corporate sponsorship of the ghost of Tom Joad, who will be outside Mr. Smalls that night but might be short the twenty bucks to get in.
Infinonytune:
Have You Been To Jail For Justice?
, Anne Feeney