As Pitt and West Virginia abandon regional rivalries for far-flung, far-from-green conferences -- Pitt,
State Penn
Penn State, and West Virginia wind up in
three
conferences, spanning from Boston to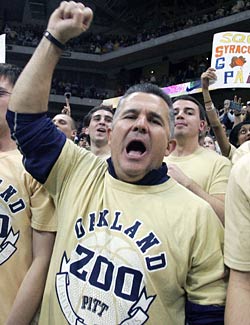 Lubbock and Miami to Nebraska? -- it seemed fitting that the game that might have concluded a century of Backyard Brawl football
turned out to be a sack of coal
.
West Virginia
produces coal
. Pitt's offense
mass-produces sacks
.
(Or, as Todd Graham might boast, "We're number one!")
Pitt's mediocre performance this season was
predictable
, yet apparently blindsided Todd Graham, whose
devotions
to system and to bragging overrode reason synergistically. Graham inexplicably stuck with a complicated offensive system long after experience
confirmed
the smart-money predictions that Pitt's personnel could not succeed with it.
No later than September -- when Pitt proved proficient at being sacked even in maximum-protection formation -- it was obvious that a pass-happy offense would be pass-sad for this year's Panthers. Fortunately for Pitt in these circumstances, the Panthers had one of the top runners in college football, Ray Graham. The only things that stopped Ray this season were Todd's play-calling and a knee injury.
Graham instead stuck with an intricate, fast-paced offensive strategy that relied on the quarterback's arm and head. What Tino Sunseri lacks in instinct and judgment, he makes up for with being short, slow, and flutter-armed. (Has Pitt ever won a game in which it trailed in the second half and had Sunseri at quarterback?) During yesterday's second half, Sunseri played like a young man whose mother was being held hostage by Mountaineers and whose father had bet the family's souls on West Virginia.
Graham's self-promoting mouth compounded his operational failures. He
promised a "high octane" team
. His image, more than Ray Graham's, was placed on tickets, programs, promotional materials, and the like. He
predicted strong performance
. Worst -- because it exposed a lack of honesty or competence -- Graham repeatedly endorsed Sunseri:
"I have full confidence in him as a quarterback."
That's millions of dollars in football insight talking, at least as measured by Steve Pederson and Mark Nordenberg. Those tempted to discount Graham's words as puffery should recall that Graham
moved his most experienced backup quarterback to another position
.
As Pitt limps home to play Syracuse and pursue a 6-6 record (and invitation to the Beef O'Brady Bowl), Steve Pederson and Mark Nordenberg should recognize that they will have competition new and old as the Graham Era unfolds. The new competition will come from Atlantic Coast Conference programs. The old competition will come
from Ed Bozik
.
There are increasingly strong signals that Jamie Dixon may be considering an expansion of his employment horizons. If Dixon leaves Pitt, he may take Ed Bozik's aging crown of thorns with him.
Infytune:
Run Like Hell
, Pink Floyd