Pittsburgh's professional sporting clubs are a mixed bag -- the Penguins are cruising toward playoffs, the Steelers chewing through fingernails instead of their schedule, the Pirates primed for yet another season of planned acquiesence -- but the Pitt Panthers have been consistent winners.
The football Panthers -- after losing a spot in the Sugar Bowl by a single point against Cincinnati -- earned a tenth win, against a
solid North Carolina team, in a bowl at Charlotte. More important, Pitt's recruiting has created enough breadth and depth to avoid overburdening a few standouts (while, like relying on role players to be pillars, had become Pitt's custom). Previous Panther teams might have relied on Mike Shanahan and Ray Graham as workhorses; this year's roster enabled them to complement Jonathan Baldwin and Dion Lewis, and profitably cast Bill Stull
as a facilitator rather than a linchpin. The Panthers had both all-conference tight ends and a stacked defensive line. Pitt's defensive weaknesses off the line were noticeable primarily because the Panthers were consistently strong elsewhere. Dave Wannestadt and his staff have pointed Pitt in a proper direction.
The basketball Panthers -- after losing two players to the NBA -- have surprised most
observers with two wins to start their conference schedule. Defeating the fifth-ranked and unbeaten Orange in Syracuse suggests these Panthers could turn a rebuilding year into a successful season, despite a lack of dependable scorers in a brutal league. If this is what a down season looks like in Oakland, the Pitt basketball program is solid.
West Virginia hurt Big East football (but not as much as Cincinnati did) by stumbling against lackluster Florida State,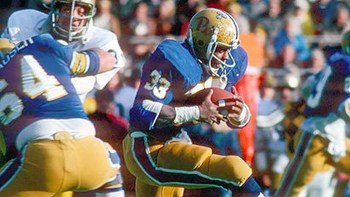 but Penn State outlasted Louisiana State, its eleventh win in a top-ten season. Penn State's schedule and season resembled Pitt's -- too many wins against weaklings, losses against the few tough opponents. A Pitt-Penn State game would have been preferable to Penn State's Syracuse or Eastern Illinois game, or to Pitt's North Carolina State or Buffalo game.