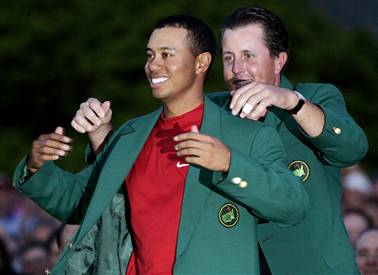 It is roughly as easy to root for Tiger Woods these days as it is to take Ben Roethlisberger's wedding (or Ben's nod to religious values in explaining the chaste nature of his current relationship) seriously.
But American golf, still too much the game of inherited privilege (especially at the tournament level), has erred in making its crown jewel the Masters tournament, whose setting and record reeks of racism, sexism, corporate excess and other obnoxious forms of unearned elitism.
So we're finding ourselves pulling for Tiger Woods this afternoon.
UPDATE:
A couple of objections to assertedly unfair treatment of the Masters prompted some research, which ended with an encounter with
this statement
from Masters co-founder (and Augusta National Chairman In Memoriam) Clifford Roberts: "As long as I'm alive, golfers will be white and caddies will be black." Roberts committed suicide two years after Lee Elder, who had achieved automatic eligibility for the Masters field by winning a PGA tournament, became the first black to compete in a Masters tournament. While Roberts was alive, no black competed in the Masters tournament by invitation.
UPPERDATE:
Why rely exclusively on historical research when
current events
are so vivid that one need not be Einstein to get the message?
Infytune:
Substitute
, The Who (introduced by Eric Burdon)