Pictured at left are Kevin McClatchy and Bob Nutting, the two most recent principal owners of the Pittsburgh Pirates.
When the club was sold in a government-brokered transaction in 1996, then-mayor Tom Murphy steered the deal to newspaper heir McClatchy, stiff-arming Pittsburgh native and seasoned baseball executive Larry Lucchino, who had been asked by major league baseball adminstrators to bid.
When McClatchy ran out of gas, he handed the club to newspaper heir Nutting, ignoring repeated inquiries from Mt. Lebanon native Mark Cuban, who had expressed intense interest in purchasing the Pirates.
While the Pirates have produced two decades of unparalleled, unremitting, heavily subsidized failure, Lucchino (with the Padres and Red Sox) and Cuban (with the Mavericks) have followed different courses.
That's a freshly minted Cuban cigar (right) attached to the most recent recipient of the National Basketball Association's championship trophy.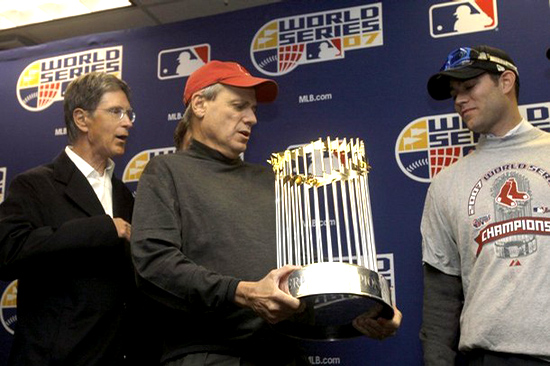 That's Lucchino (left) holding the Commissioner's Trophy, twice presented to the World Series champion Red Sox during Lucchino's presidency of that club (Lucchino also accompanied the Padres to the World Series a couple of years after being shunned by Pittsburgh).
Infytune:
I Wanna Be Sedated
, The Ramones